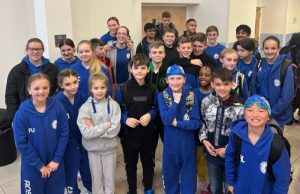 Thank you to all who participated in the Tudor last night. We placed 5th and  had some incredible swims.
Congratulations to Jude Smith and Rosie Jackson who completed in their first ever competition!
Shout out to Caitlin Law, Khalessi Pallen, Madison Perez, Julia Czapla and Charlotte Johnson who all swam in their own age group as well as the one above!
A huge thank you to Jo and Gemma for their superb marshalling and also to our official Lucy. Thank you to Esmee Stanley for her help and support especially with the younger ones. Finally, thank you to the parents and swimmers for giving up their Saturday evening!
Well done everyone! 🐠🏆🏊🏻‍♀️